Fort Smith Public School District, in Arkansas, turned a state dyslexia mandate into an opportunity to fundamentally restructure how reading instruction was provided across their entire district. In 2017, school leaders began a partnership with Lindamood-Bell to address the needs of struggling readers and students with dyslexia and to provide a solid foundation for all early learners. 
Over 300 teachers attended workshops to learn the steps of Visualizing and Verbalizing and Seeing Stars. After the workshops, teachers continued learning throughout the year through job-embedded professional development. 
Results over the first two years illustrate the profound impact on reading achievement. The district significantly reduced the percentage of Lowest Performing students receiving Tier 3 interventions while the percentage of Highest Performing students increased.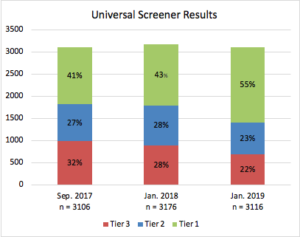 This graph shows the change in overall reading scores, based on the district's universal screener.
Student growth in overall reading has had a substantial impact on the number of students placed in Tier 2 and Tier 3 intervention groups. It has also allowed the district to better utilize its staff resources and maximize scheduling, while improving academic outcomes for struggling and at-risk readers. 
"We had one student who came in at the 16th percentile in comprehension and when we post-tested him he was at the 98th percentile," shared Cathey Ford, Intervention/Dyslexia Coordinator for Fort Smith Public School District. "That child can now go to Jr. High and access the content which before he wouldn't have been able to. I think of him almost every day because what happened for that child was just amazing."
The district recently completed a summer reading academy, focused on training teachers in the Seeing Stars and Visualizing and Verbalizing programs and providing intensive intervention for its neediest students.  For the upcoming school year, Fort Smith will continue receiving ongoing coaching, and students will receive instruction in the programs through all tiers of instruction – classroom, targeted instruction, and intensive intervention. 
Check out the upcoming Workshop Schedule or learn more about professional development opportunities at https://lindamoodbell.com/for-schools.